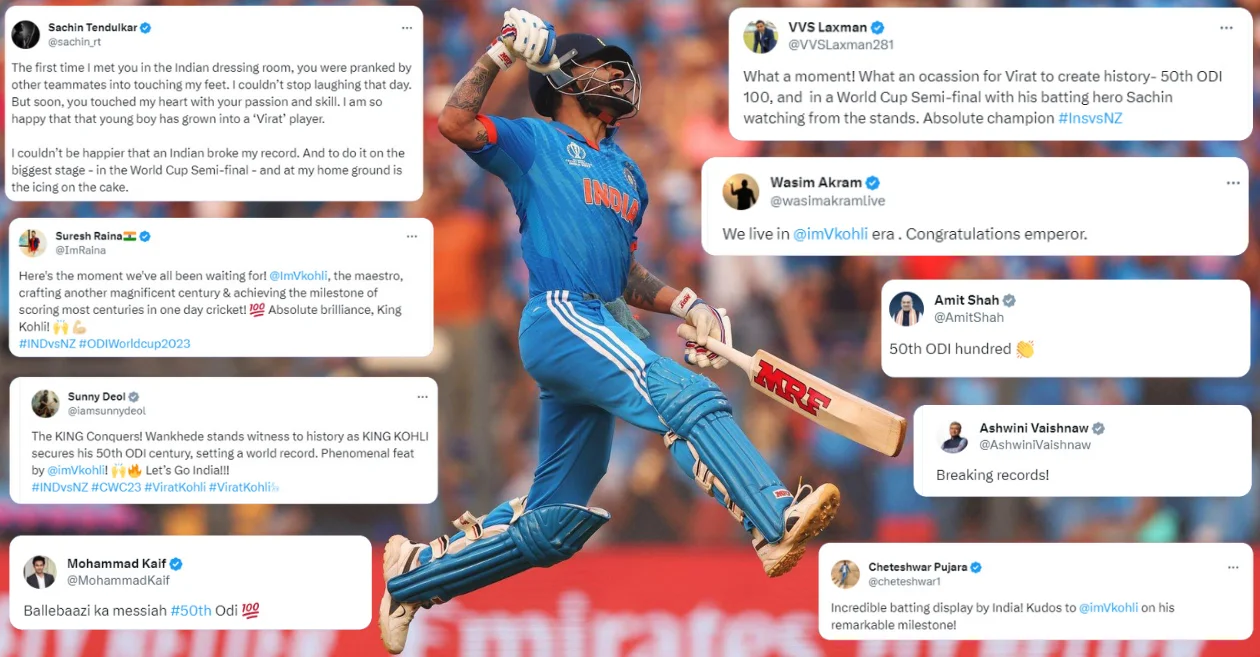 In a cricketing spectacle that will be etched in the memories of fans for years to come, India's batting maestro Virat Kohli set the Wankhede Stadium ablaze during the first semifinal of the ODI World Cup 2023 against New Zealand. The match was not just a clash between two cricketing powerhouses but was a stage where records were shattered and history was rewritten.
Virat Kohli's masterful knock
In a display of sheer elegance and dominance, Virat played a pivotal role in India's commanding performance against the Blackcaps. His masterful innings of 117 runs off 113 deliveries, embellished with nine fours and two sixes, not only propelled India to a mammoth total but also carved his name in the annals of record books.
Virat Kohli surpasses Sachin Tendulkar's milestone of most ODI hundreds
Virat's century marked his 50th ODI ton, surpassing the legendary Sachin Tendulkar's world record of 49 hundreds in the 50-over format. The Wankhede crowd witnessed a cricketing genius at work as Kohli showcased impeccable timing, precision, and unwavering determination to reach this landmark.
A trail of records: Virat Kohli's unprecedented feats
However, the record-breaking didn't stop there. Kohli's innings shattered numerous other milestones, leaving an indelible mark on the cricketing world.
Most runs in a single World Cup edition
Adding to his list of achievements, Kohli also secured the record for the most runs in a single World Cup edition, a milestone previously held by the legendary Sachin Tendulkar since 2003. This accomplishment solidified Kohli's reputation as one of the greatest ODI batsmen of all time.
Kohli's record-breaking partnership with Shreyas Iyer
While the spotlight was on Kohli, Shreyas Iyer's quickfire 105 runs provided crucial support. The duo's partnership of 163 runs proved to be the backbone of India's innings, joining the elite list of India's 100-plus partnerships in CWC knockouts and showcasing the team's depth and resilience in high-pressure situations.
As news of Kohli's record-shattering innings spread, fans around the world lauded the batting maestro. Social media platforms were flooded with messages of awe and appreciation for Kohli's class, skill, and unwavering commitment to the game. The cricketing fraternity was unanimous in acknowledging that they had witnessed something truly special at the Wankhede Stadium.
Here's how Twitter reacted:
The first time I met you in the Indian dressing room, you were pranked by other teammates into touching my feet. I couldn't stop laughing that day. But soon, you touched my heart with your passion and skill. I am so happy that that young boy has grown into a 'Virat' player.

— Sachin Tendulkar (@sachin_rt) November 15, 2023
Virat Kohli with a great sense of occasion befitting a great player moves to ODI century No 50 in ICC World Cup Semi-Final 2023. Under the gaze of Sachin Tendulkar, Sir Viv Richards, Sunil Gavaskar, David Beckham and several sporting icons. Wankede is a special venue pic.twitter.com/JsYlrqin2g

— Ian Raphael Bishop (@irbishi) November 15, 2023
What a moment! What an ocassion for Virat to create history- 50th ODI 100, and in a World Cup Semi-final with his batting hero Sachin watching from the stands. Absolute champion #InsvsNZ

— VVS Laxman (@VVSLaxman281) November 15, 2023
Unbelievable 🤯 what a cricketer!! Virat Kohli on the biggest stage gets that magical number…50 x 💯 He now stands alone at the top. I reckon he still have one more in him before the end of this tournament 😉

— Lisa Sthalekar (@sthalekar93) November 15, 2023
Virat Kohli Indian cricket Ka control room. Yaha se Jeet cotnrol hoti hai ab to sabse zyada shatak Ka control bhi @imVkohli ke naam. 🐐 pic.twitter.com/7uDvdrr9bX

— Irfan Pathan (@IrfanPathan) November 15, 2023
Kohli's century – a cricketing blockbuster with a script that deserves all the applause! 50 -One Day Hundreds! 🎬💯 @imVkohli #KohliCenturyBlockbuster #RunApplause

— Shikhar Dhawan (@SDhawan25) November 15, 2023
We live in @imVkohli era . Congratulations emperor.

— Wasim Akram (@wasimakramlive) November 15, 2023
Here's the moment we've all been waiting for! @ImVkohli, the maestro, crafting another magnificent century & achieving the milestone of scoring most centuries in one day cricket! 💯 Absolute brilliance, King Kohli! 🙌 💪🏼#INDvsNZ #ODIWorldcup2023 pic.twitter.com/ibcwfOHpm2

— Suresh Raina🇮🇳 (@ImRaina) November 15, 2023
Incredible batting display by India! Kudos to @imVkohli on his remarkable milestone!#IndvNZ #CWC23

— Cheteshwar Pujara (@cheteshwar1) November 15, 2023
50th ODI hundred 👏

Kudos to @imVkohli for achieving the historic milestone of scoring his 50th century in ODI cricket. This is a testimony of your outstanding sportsman spirit, dedication and consistency. May you further elevate your game to a new level. The nation is proud of… pic.twitter.com/6v1YtDoKnh

— Amit Shah (@AmitShah) November 15, 2023
Ballebaazi ka messiah #50th Odi 💯 pic.twitter.com/2MqsOThY1g

— Mohammad Kaif (@MohammadKaif) November 15, 2023
Incredible achievement! 50 ODI centuries! 👑 @imVKohli, you are a cricketing marvel.

Congratulations on your phenomenal achievement in the World Cup semis! 🏏 #ViratKohli𓃵 #INDvsNZ #WorldCup2023pic.twitter.com/9Jl7zE0qXn

— M.K.Stalin (@mkstalin) November 15, 2023
Just incredible .. World Cup semi .. Sachin over looking in stands .. and @imVkohli delivers No 50 !! #CWC2023

— Michael Vaughan (@MichaelVaughan) November 15, 2023
Huge congrats to @imVkohli on reaching his 50th ODI 💯! 🙌 What a legend, and what a moment to achieve it – in the semi-final 🏏💥 #IndvNZ #Legend pic.twitter.com/0ql2XHPnKY

— Yusuf Pathan (@iamyusufpathan) November 15, 2023
Breaking records!

Record online viewers (4.6 cr) celebrating #ViratKohli's record of 50th century in ODI.#INDvsNZ pic.twitter.com/x1NhIYNM8R

— Ashwini Vaishnaw (@AshwiniVaishnaw) November 15, 2023
#ViratKohli𓃵 is legit GOAT now! Overtaking my childhood idol SRT's record! Whatta feeling it is to do that in front of him. Class. Pure class. 🇮🇳🙌

Shreyas has been the dark horse of this tournament. He became a more evolved player in the past few weeks, also with the short…

— Ayushmann Khurrana (@ayushmannk) November 15, 2023
A stellar performance by @imVkohli in the #CWC2023 semi-finals against New Zealand, where he notches up a remarkable century! Breaking barriers, he now stands as the sole player with an incredible 50 ODI centuries, surpassing the legendary @sachin_rt's record of 49 hundreds in… pic.twitter.com/sCXkadFPLP

— Jay Shah (@JayShah) November 15, 2023
BREAKING: Virat Kohli hits his 50th ODI century for India, breaking a record held by @sachin_rt that many thought would never be broken. A wonderful achievement by a magnificent batsman. Congrats @imVkohli 👏👏 pic.twitter.com/NMNqsJ9cEE

— Piers Morgan (@piersmorgan) November 15, 2023
The KING Conquers! Wankhede stands witness to history as KING KOHLI secures his 50th ODI century, setting a world record. Phenomenal feat by @imVkohli! 🙌🔥 Let's Go India!!! #INDvsNZ #CWC23 #ViratKohli #ViratKohli𓃵 pic.twitter.com/ljXlsbdFvc

— Sunny Deol (@iamsunnydeol) November 15, 2023
What a moment! To stand alone, aloft a summit and own the game. It has been such a joy to see a young man reach where he has. Kohli and ODI cricket will always be spoken of together.

— Harsha Bhogle (@bhogleharsha) November 15, 2023
.@imVkohli's 50th ODI 💯 is not just a number. It's an extraordinary tale of cricketing greatness. 🤌🏾 Well done champ!🌟#CWC23 #INDvNZ

— Robin Aiyuda Uthappa (@robbieuthappa) November 15, 2023

#Virat #Kohli #sets #social #media #ablaze #recordshattering #ton #Zealand #Wankhede #ODI #World #Cup