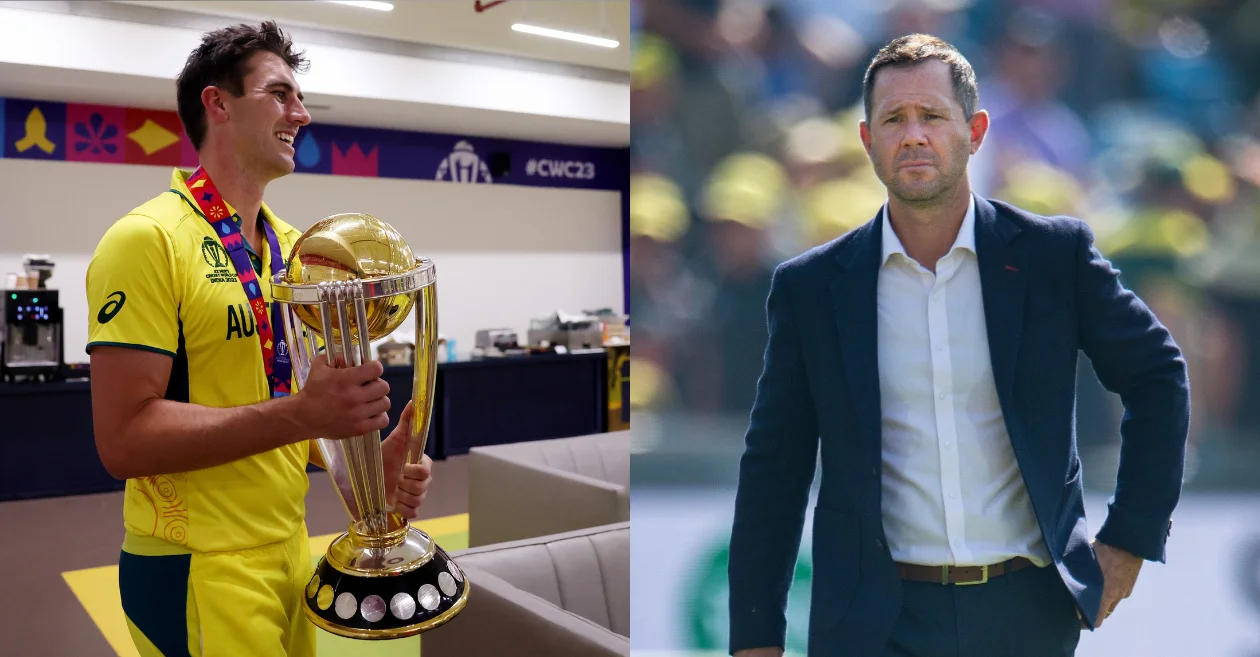 Australia clinched their sixth ICC Cricket World Cup title by defeating India in a high-stakes and intense final of the ODI World Cup 2023 at the Narendra Modi Stadium. The match was a testament to Australia's prowess, with Travis Head's spectacular century leading the charge.
However, amidst the celebrations, it was the captaincy of Pat Cummins that took centre stage, drawing the attention of former Australian captain Ricky Ponting, who had a bold message for Cummins' critics.
Australia's sixth ODI World Cup triumph
The summit clash commenced with Australia winning the toss and choosing to bowl, a decision that turned out to be pivotal in the outcome of the match as they restricted India to an average total of 240 runs. KL Rahul top-scored for the Men in Blue with 66 runs, while Virat Kohli contributed a crucial 54 runs. Mitchell Starc and Pat Cummins spearheaded the Australian bowling attack, with Cummins securing two crucial wickets for 34 runs.
In response, Australia chased down the target with Head's sensational knock of 137 runs from 120 balls that ultimately helped the Aussie side secure a title-clinching six-wicket victory, marking a historic chapter in cricketing history.
Pat Cummins' stellar captaincy
This World Cup triumph not only marked Australia's sixth title but also solidified Cummins' reputation as a brilliant skipper. The Aussie captain had previously led Australia to a World Test Championship victory earlier in the year and retained the Ashes on English soil. Despite these accomplishments, Cummins faced criticism, particularly for the sub-par performance during the Test series in India.
Ricky Ponting's blunt response to Cummins' haters
An iconic figure in Australian cricket and two-time World Cup-winning captain, Ponting, has now stepped forward to give a blunt reply to those haters who spread negativity for Cummins ahead of the World event in India.
Ponting started by commending Cummins for his courageous decision to bowl first in the World Cup final, emphasizing the risk associated with such a move and then further went on to address the baseless criticism Cummins had faced before the World Cup campaign.
"I mean, any captain deciding to bowl first at the toss, that's a gutsy, courageous move. Australia felt that if they could bowl well on that dry wicket early on and restrict India, batting was gonna get easier in the second innings – but we all know if you get that call wrong and you lose the game, that's a huge decision to make for a relatively young captain," Ponting was quoted saying by 7news.com.au.
"I don't know where the negativity's come from because there's been no real basis for it." He highlighted Cummins' outstanding overall Test record as captain and reminded everyone of the significant moments where Cummins had stood up under extreme pressure, changing the course of the game with both bat and ball," he added.
Ponting highlights Cummins' qualities
Ponting concluded by stressing that Cummins deserves every plaudit for his leadership, highlighting his leadership role from the retention of Ashes to the World Cup triumph and emphasizing his ability to make critical decisions and deliver under pressure consistently.
"Because there have been a number of moments – think back to the first Test of the Ashes – where he stood up and actually got the job done himself. Under extreme pressure with bat or ball, it's generally been him when his team's in trouble who's changed the course of the game. So he thoroughly deserves every plaudit that comes his way as far as leadership is concerned," highlighted the former India skipper.
#Ricky #Ponting #shuts #Pat #Cummins #haters #Australias #titleclinching #triumph #India #ODI #World #Cup #Final