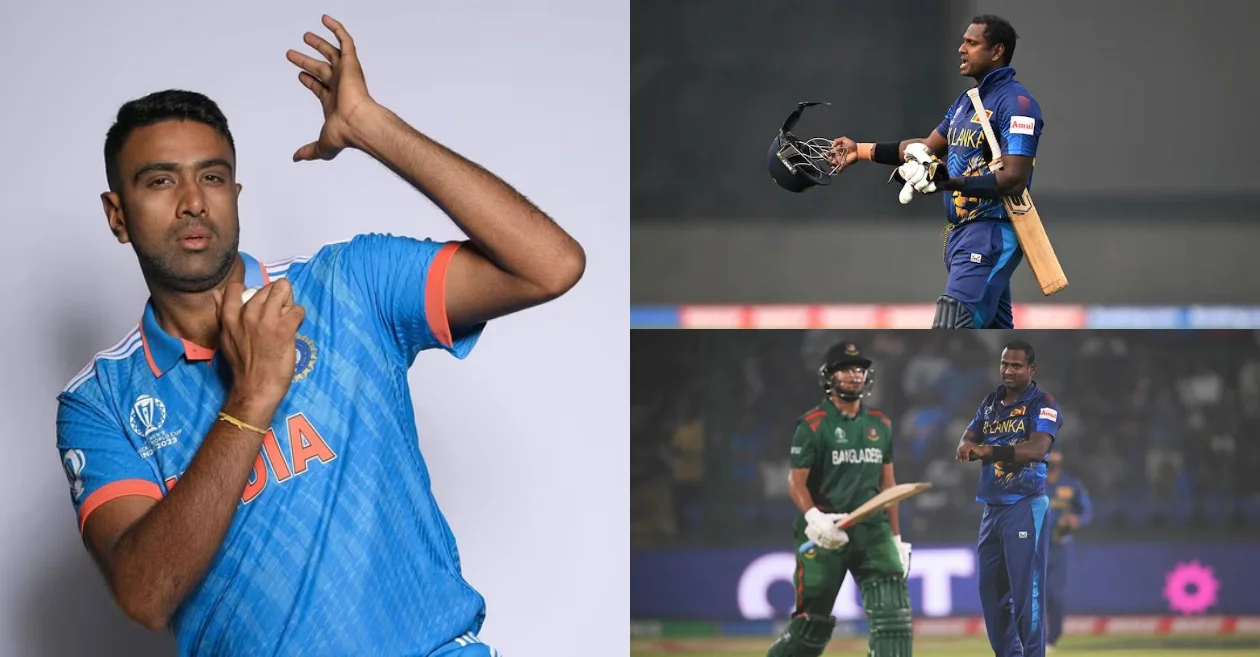 The ODI World Cup 2023 took an unexpected turn when the seasoned Sri Lankan all-rounder, Angelo Mathews, found himself at the centre of a heated controversy by becoming the first player to be dismissed 'timed out' in international cricket. The incident occurred during the Islander's crucial match against Bangladesh, leaving the cricketing world in shock and sparking debates on the spirit of the game.
While the cricketing world is divided over the controversial dismissal and is coming with diverse views, India's star spinner Ravichandran Ashwin also shared his candid opinion on the 'timed out' controversy.
The 'timed out' controversy unveiled
The controversy erupted when Bangladesh skipper Shakib Al Hasan appealed for the 'timed out' dismissal of Mathews as he took some minutes to take the strike after entering the field following the previous dismissal. Although Mathews cited his defective helmet as the reason for the delay, he was still ultimately declared out before even facing a ball.
It is worth noting that 'timed out' occurs when the incoming batter fails to be available to face the ball within three minutes of the previous batter's dismissal or retirement. Mathews, struggling with equipment issues, fell victim to this rarely invoked rule.
The fallout of Shakib's appeal
Understandably frustrated with the turn of events, Mathews expressed his displeasure not only at the Bangladesh cricket team but also at Shakib personally. The post-match atmosphere was tense, with the two teams refraining from the customary handshake. The incident stirred a global debate, dividing opinions on whether the rules were correctly enforced or if the spirit of the game was compromised.
Ravichandran Ashwin's candid take on the 'timed out' dismissal
Known for his no-nonsense attitude, Ashwin shared his candid opinion on the controversy via his official YouTube channel. While acknowledging that the decision was in line with the rules, Ashwin pointed out a previous incident involving Shakib, where a similar situation arose, but leniency was shown.
"One side is talking about the rules and another side is talking about the spirit of cricket. When Mathews came out to bat, his helmet was not okay, and he wanted to change that. I saw another video where Shakib did not bring his guard against Sri Lanka and he was allowed to bring it later. It has almost become warfare between these two countries," said Ashwin.
Ashwin further recognized the dismissal as one that would undoubtedly leave any batter feeling disheartened and stated: "Actually with timed-out, yes Shakib appealed and the umpire gave it out, agreed. Recently, there has been information that Mathews was already warned by the umpires about the timed-out dismissal. But Mathews was really upset that he got out, and rightly so. No one should get out like that, everyone will feel bad about that."
#Ravichandran #Ashwin #shares #honest #timed #controversy #involving #Angelo #Mathews #Shakib #Hasan #CWC