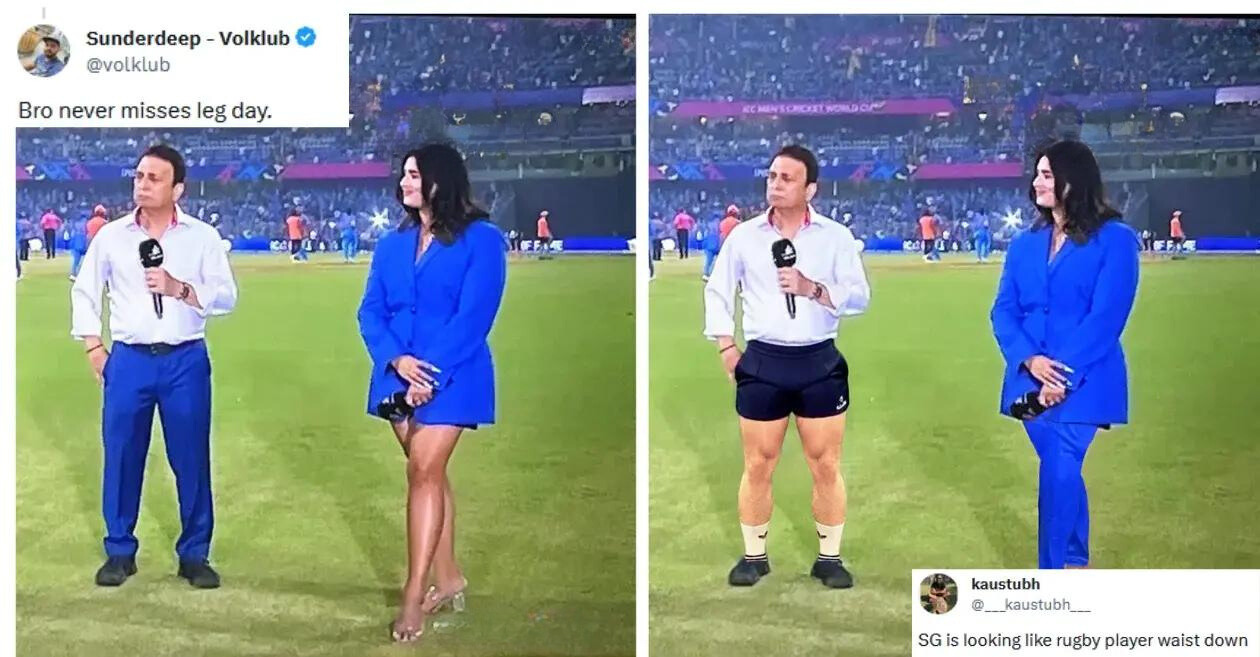 The ODI World Cup 2023 has captured the attention of cricket enthusiasts with its thrilling encounters on the field and sparked further excitement due to their dynamic presenters. The tournament has became a big spectacle not just for the cricketing action but also for the engaging and charismatic personalities who bring the matches to life.
Amid the ongoing fervour, Mayanti Langer, one of the notable presenters for the ongoing World Cup, has drawn considerable social media attention for her attire during the coverage of the India vs New Zealand semifinal at the Wankhede Stadium on Wednesday.
Sunil Gavaskar-Mayanti Langer coverage
During the intense first knockout clash in Mumbai, Mayanti was seen providing coverage alongside Indian cricket veteran Sunil Gavaskar. Gavaskar donned blue trousers paired with a white shirt in a stylish ensemble. Meanwhile, Mayanti opted for a fashion-forward look, a blue blazer with a mini skirt. Their contrasting styles added a vibrant touch to the broadcast, sparking conversations and mixed reactions on social media.
Mentioning about the game, the Men in Blue emerged victorious over the Black Caps by a hefty margin of 70 runs, sealing their place in the finals, where they will take on Australia at the Narendra Modi Stadium on Sunday (October 19).
The hilarious photoshop
In a surprising turn of events, a famous Indian photo editor named Krishna ticked netizens' funny bones by playfully photoshopping Gavaskar's trousers with Mayanti's skirt. Renowned for his cricketing prowess, the former Indian cricketer found himself in an unexpected spotlight as his trousers became the canvas for the editor's playful creativity.
The edited images, featuring Mayanti and Gavaskar with conspicuously altered bottom wears, spread like wildfire across various social media platforms.
Here's how fans reacted:
SG ke thighs thode jyada hi thick kar diye! 😂

— Vinay🇮🇳𝕏 (@mevinayshah) November 17, 2023
Sunil G never missed a legs day.

— Manish Purohit (@iManishPurohit) November 17, 2023
jyada chota pehna diya hai Sunny paji ko

— Shubham dwivedi🇮🇳 (@mahamahim555) November 17, 2023
Good fixing 😜

— Manoj Tiwari (@ManojTiwariIND) November 17, 2023
May be she is wearing something short and he had given his Blazer to her, what generally shown in the movies.

— Prince Kumar (@princykumary) November 18, 2023
Oh! No not fixed.. Gawasker ke tumne Ronaldo ki legs lga di hai yr…. 😀😀

— Laxmi narayan 🌩️🌩️ (@Narayan_LN) November 18, 2023
Upr gavaskar, neeche Brock Lesnar

— अनुग्रह शर्मा (@_hindutvaa) November 17, 2023
SG is looking like rugby player waist down

— kaustubh (@___kaustubh___) November 18, 2023
Sir, Sunny G is a cricket player not a WWE fighter 😭

— Jolly 🪄✨ (@rrr_ramcharan) November 17, 2023

#Netizens #react #hilariously #popular #Indian #editor #photoshops #Mayanti #Langer #Sunil #Gavaskars #trousers #ODI #World #Cup