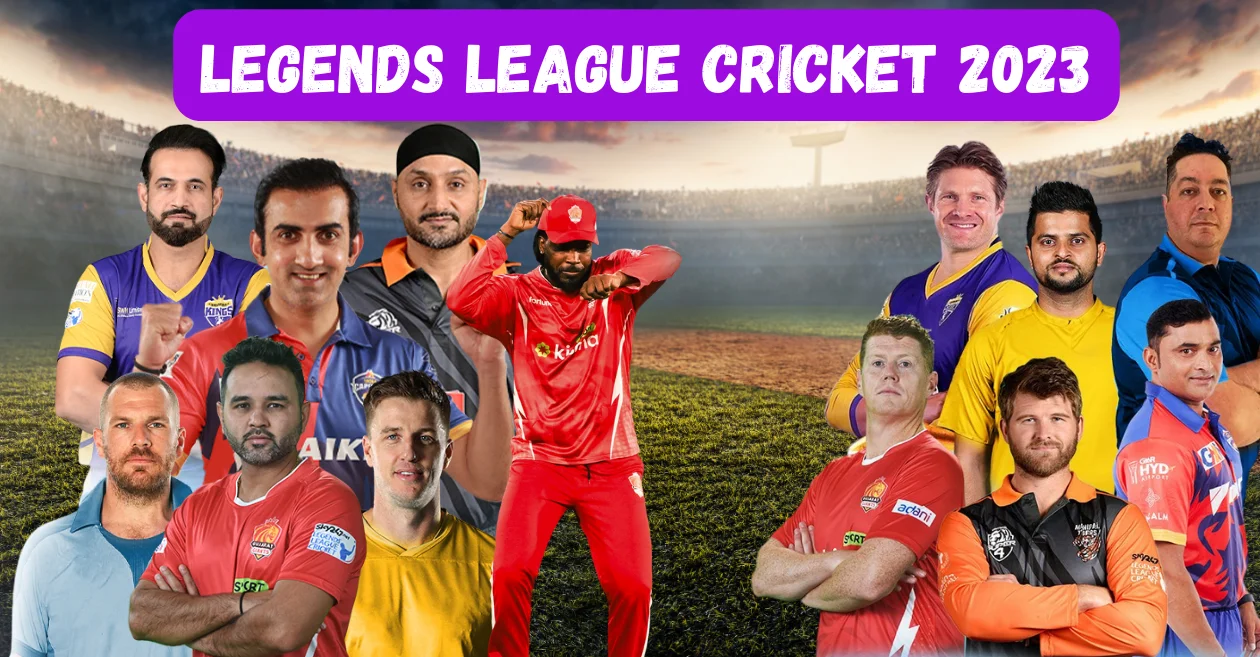 In a thrilling development for cricket enthusiasts, the Legends League Cricket (LLC) 2023 is set to kick off with a lineup of six formidable teams. Embracing a single round-robin format, the tournament promises an exhilarating showcase of cricketing prowess.
Teams for LLC 2023
The participating teams include the reigning champions India Capitals, along with Bhilwara Kings, Manipal Tigers, Gujarat Giants, Urbanisers Hyderabad and Southern Super Stars. These teams are poised to engage in intense battles, each vying for supremacy in the league.
As the competition unfolds, the top four teams emerging from the group stage will secure their passage to the playoffs. The playoff stage comprises two Qualifiers, an Eliminator and the Grand Final – each match a crucial step toward claiming the coveted championship title.
Venues for LLC 2023
JSCA International Stadium Complex in Ranchi, Rajiv Gandhi International Cricket Stadium in Dehradun, Maulana Azad Stadium in Jammu and Dr. Y.S. Rajasekhara Reddy ACA-VDCA Cricket Stadium in Visakhapatnam will host the league games. Play-offs are slated to be held at Lalabhai Contractor Stadium in Surat.
The much-anticipated live action for LLC 2023 will commence with a clash between India Capitals and Bhilwara Kings on November 18 at JSCA International Stadium Complex, Ranchi.
LLC 2023: Complete Schedule
November 18, Saturday: Match 1, India Capitals vs Bhilwara Kings, 07:00 pm IST/ 01:30 pm GMT
November 20, Monday: Match 2, Manipal Tigers vs Gujarat Giants, 07:00 pm IST/ 01:30 pm GMT
November 21, Tuesday: Match 3, Urbanrisers Hyderabad vs Southern Super Stars, 07:00 pm IST/ 01:30 pm GMT
November 22, Wednesday: Match 4, Bhilwara Kings vs Gujarat Giants, 07:00 pm IST/ 01:30 pm GMT
November 23, Thursday: Match 5, India Capitals vs Urbanrisers Hyderabad, 03:00 pm IST/ 9:30 am GMT
November 24, Friday: Match 6, Bhilwara Kings vs Manipal Tigers, 07:00 pm IST/ 01:30 pm GMT
November 25, Saturday: Match 7, India Capitals vs Southern Super Stars, 07:00 pm IST/ 01:30 pm GMT
November 26, Sunday: Match 8, Gujarat Giants vs Urbanrisers Hyderabad, 03:00 pm IST/ 9:30 am GMT
November 27, Monday: Match 9, Manipal Tigers vs Southern Super Stars, 07:00 pm IST/ 01:30 pm GMT
November 29, Wednesday: Match 10, Bhilwara Kings vs Southern Super Stars, 07:00 pm IST/ 01:30 pm GMT
November 30, Thursday: Match 11, India Capitals vs Gujarat Giants, 07:00 pm IST/ 01:30 pm GMT
December 01, Friday: Match 12, Bhilwara Kings vs Urbanrisers Hyderabad, 03:00 pm IST/ 9:30 am GMT

December 02, Saturday: Match 13, India Capitals vs Manipal Tigers, 07:00 pm IST/ 01:30 pm GMT

December 03, Sunday: Match 14, Giants vs Southern Super Stars, 03:00 pm IST/ 9:30 am GMT
December 04, Monday: Match 15, Manipal Tigers vs Urbanrisers Hyderabad, 07:00 pm IST/ 01:30 pm GMT
December 05, Tuesday: Qualifier 1 – Rank 1 vs Rank 2, 07:00 pm IST/ 01:30 pm GMT
December 06, Wednesday: Eliminator – Rank 3 vs Rank 4, 07:00 pm IST/ 01:30 pm GMT
December 07, Thursday: Qualifier 2 – Loser of Qualifier 1 vs Winner of Eliminator, 07:00 pm IST/ 01:30 pm GMT
December 09, Saturday: Final – Winner of Qualifier 2 vs Winner of Qualifier 1, 07:00 pm IST/ 01:30 pm GMT
Broadcast and Live Streaming details of LLC 2023
#Legends #League #Cricket #LLC #Fixtures #Match #Timings #Broadcast #Live #Streaming #details