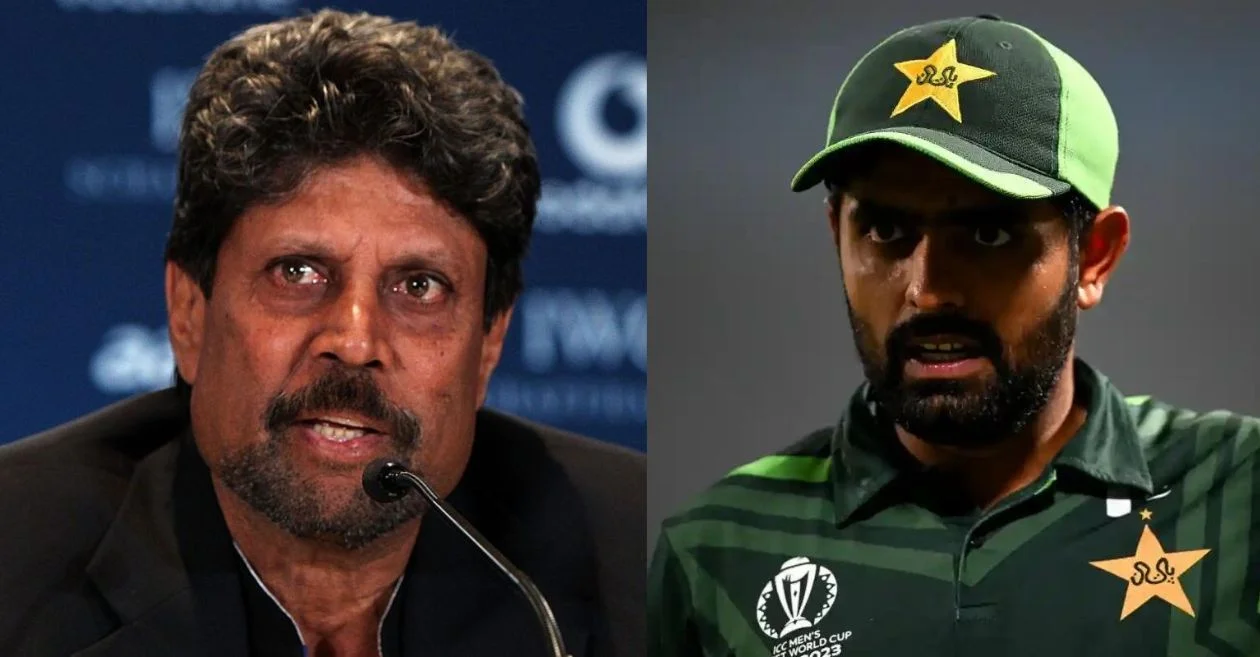 Former India captain and World Cup-winning legend, Kapil Dev, has come out in support of Pakistan's skipper, Babar Azam, despite the team's disappointing performance in the ICC Men's Cricket ODI World Cup 2023 in India.
Babar Azam's World Cup dilemma: Batting struggle and captaincy under scrutiny
Babar, entering the tournament as the No. 1 ODI batter, faced challenges both as a batter and captain, accumulating 320 runs in nine innings at an average of 40 and a strike rate of 82.90. Pakistan's inability to secure a spot in the World Cup semifinals, with five losses in nine matches, led to widespread criticism, with calls for Babar to be relieved of his captaincy.
Kapil Dev lends his support to Babar Azam
In defense of Babar, Kapil pointed out the skipper's pivotal role in guiding Pakistan to the No. 1 ranking in ODI cricket before the World Cup. The 64-year-old cautioned against hasty judgments based solely on recent performances, urging experts and fans to consider the broader contributions made by Babar to the team's success.
"If you say that Babar Azam is not the right choice [for captaincy] today, it is because you are looking at just his current performance. He was the same captain, who made Pakistan team No.1 [in ICC ODI rankings] six months ago," Kapil was quoted as saying by India Today.
"When someone gets out for zero, 99 per cent of the people would want him to be dropped. If an ordinary player comes and scores a brilliant hundred, then they call him a superstar. So don't look at just current performance. Look at how he has approached the game, how much passion and talent he has," the Chandigarh-born cricketer concluded.
World Cup journey: Pakistan's rollercoaster ride
Pakistan started the World Cup on a positive note with victories over the Netherlands and Sri Lanka, the latter being a record-breaking chase. However, a pivotal defeat to India initiated a four-game losing streak. Despite subsequent wins against Bangladesh and New Zealand, Pakistan fell short of reaching the semifinals, finishing in fifth place. The team's ODI World Cup drought extends to another four years, with their last and only title in 1992 under the captaincy of Imran Khan.
#Kapil #Dev #backs #Babar #Azam #captaincy #criticism #Pakistans #horrific #performance #ODI #World #Cup