Smart home automation systems have risen in popularity in the last few years, increasing the amount of smart home appliances currently on the market. They're designed to add comfort and give you peace of mind that you can access your home tech from anywhere, even remotely.
Thinking of upgrading to a connected home this year? Read on for our home connection guide and explore our list of the top smart home appliances you can invest in (and how they can benefit you).
What are you waiting for…it's time to get smart!
FIND A LOCAL TRADESPERSON
How to make your home smart
The first thing you need to do is pick a smart ecosystem. The most popular types are Google Home, Amazon Alexa or Apple HomeKit. Which you pick will depend on a few things (for example, Apple Homekit might be a good idea if you own a lot of iPhones and tablets, whilst Google's Home is a better choice if you're an android user).
Doing this will ensure everything in your home runs smoothly, though most third-party devices are usually compatible with a range of ecosystems. Simply follow the setup instructions that come with whichever ecosystem you choose.
You'll be able to control your ecosystem via your smartphone. However, in order to make the most of your devices, it's a good idea to have a range of smart speakers and smart displays throughout your home, so you can control all your appliances via voice control (so you don't have to shout) as well as with touch screens.
Once these are set up, you'll be able to control all your smart devices (using an internet connection or Bluetooth) from inside and outside of your home, and even set up automated tasks to make your life easier.
Once you have this set up, you'll be able to purchase a range of smart products to integrate into your home. Below, we've compiled a list of the top smart improvements you can make to your home this year…
1. Smart lighting
Have you ever gotten into bed only to realise you have to get back up to switch off the light? We've all been there. With smart lighting, you can turn off or dim lights with a simple voice command.
Smart light bulbs come with a range of settings and features, including different coloured lights that can help you create a variety of moods. You can also get smart LED strips to attach under cabinets, behind your TV, or around the edges of your ceiling to create a cool effect.
A lot of lights with smart technology come with their own app that enable you to customise your lighting from your smartphone. They also allow you to set up specific routines, for instance timers for lights that switch on or off at specific times of the day without you having to do anything.  
Speak to an electrician to find out more about setting up smart lighting in your home.
FIND A LOCAL ELECTRICIAN
2. Smart security
Smart tech can also be used to keep you and your property safe. For instance, you can install a smart doorbell that enables you to see who approaches your front door from your mobile phone. They also allow you to speak to whoever rings the doorbell, directly from your phone.
Security cameras with smart home tech will also enable you to monitor your home remotely and receive motion alerts. Indoor security cameras can help you keep an eye on your children and pets as well.
By installing smart locks, you'll be able to lock and unlock your front door using your smartphone, PIN codes, or biometric authentication.
Lastly, advanced security alarms will notify you and the police of a breach. We recommend you invest in window and door sensors for an added layer of security, as these will notify you via mobile phone if someone opens or tampers with an entryway.
Find a local security specialist to improve your home's defences.
FIND A SECURITY SYSTEM INSTALLER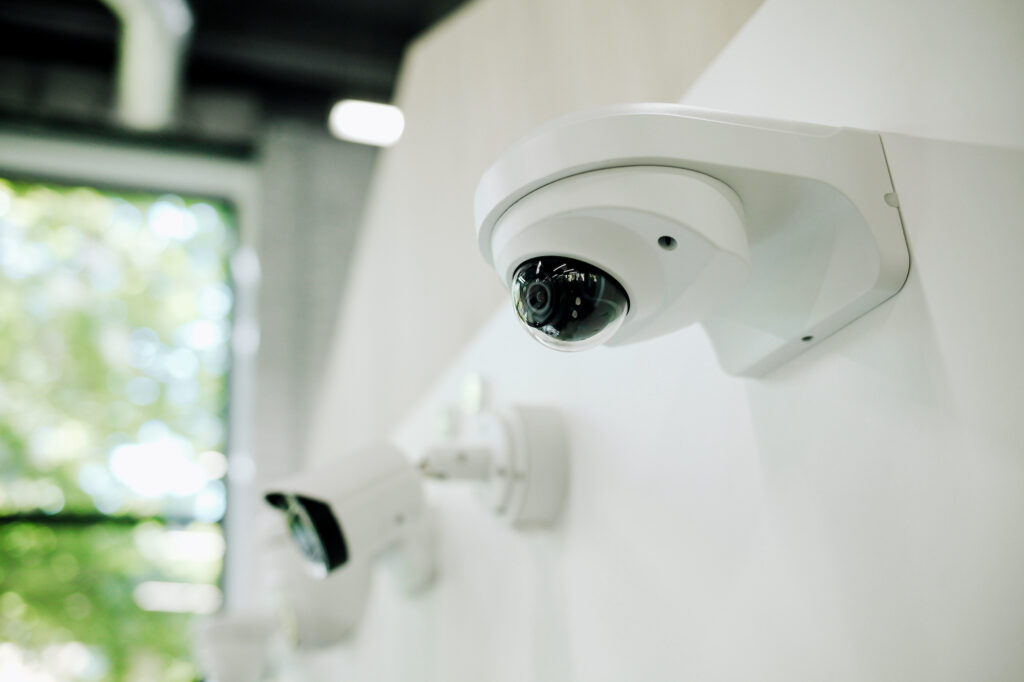 3. Smart detectors
Your smoke alarm and carbon monoxide detector are vital safety features in your home. So why not make them smart for added security?
Smart detectors not only trigger alarms, but also send out alerts to your phone and connected devices. That way, even if you're away from your property you can be fully aware of any potential dangers.
Not only this, smart detectors will also notify you when your alarms are running low on battery or need battery replacements. Smart models will regularly run tests on themselves to ensure they are functioning correctly.
Get yours installed today to give you peace of mind and comfort:
4. Smart thermostats
Smart thermostats offer a convenient way of controlling your heating from your phone or tablet. The great thing about them is that they can be controlled from anywhere, so you can switch your heating on when you're heading home from work, or turn it off remotely if you forgot to before leaving the house. As well as this, other smart thermostat features include:
Multi-room control
Hot water control
Geofencing (to track when you leave and enter your home)
Draught detection
Holiday and safety modes to protect your pipes when you're away
Data collection and feedback on your heating routines
Keep in mind that smart home thermostats aren't smart metres, which deal with your gas and electricity readings. However, like smart metres, they can also save you money on your energy bills by helping you monitor and control when your heating comes on and off.
Smart thermostats work with Amazon Echo, Google Home and other such ecosystems, meaning you can also use voice control to adjust your heating.
5. Smart garden irrigation
Smart irrigation systems allow you to control and remotely water your garden by setting up a schedule using an app on your phone. This schedule is tailored to your plants, soil type, and where you live (weather conditions) which you input when you set up the app.
In fact, many smart home models use local weather reports and sensors to adjust how much water they release, so they can skip a water cycle if it rains. You can then set up areas in your garden according to how much water your different plants need.
Smart irrigation systems are great because they help prevent water waste, giving your plants the exact amount of water they need. This in turn helps you save money. The other big benefit of garden irrigation is that it saves you having to water your plants, giving you back time to do more of the things you love.
Speak to a gardener in your local area to set up your very own irrigation system.
FIND A LOCAL GARDENER
6. Smart tech appliances
Once you set up your ecosystem, there are loads of different smart home appliances you can invest in to make your home smart. Below, we've compiled a list of the most popular options for you to consider, all of which can save you time and add comfort to your life…
Smart fridges – use the touchscreen display to create shopping lists, set expiration reminders, and look at the inside of your fridge from your phone
Smart home washing machines – can be controlled from your phone, notify you when your washing is done, and regulate water and energy usage depending on the amount of laundry inside
Smart dryers – notify you when your laundry has finished drying and allow you to control the dryer remotely
Smart home ovens – can be controlled remotely and also offer precision cooking via app
Smart dishwashers – can be controlled remotely and allow you to monitor cycles and detergent levels from your phone
Smart home vacuum cleaners – robotic cleaners can be controlled from your phone, integrate (sometimes) with voice assistants and allow you to create a 'map' or route for the hoover to take around your home
As well as this, you can get a smart toaster, smart coffee machine, smart slow cooker, smart air purifier, smart ceiling fan, smart humidifier, and so much more!
Run your home smoothly and efficiently with the help of smart tech. Need help setting up your new smart home appliances? A handyperson can help, just request a quote to get started…
FIND A LOCAL HANDYPERSON
From watering your garden for you to allowing you to check on your pets whilst you're at work, the benefits of smart technology appliances are endless. They can save you time, cut down on your energy bills, and increase your home's security. And all with a few taps of your mobile phone.
Get started on upgrading to a connected home this year by speaking to a local tradesperson and requesting a quote.
FIND A LOCAL TRADESPERSON

#home #smart #Smart #home #technology #connected #homes #Rated #People #Blog