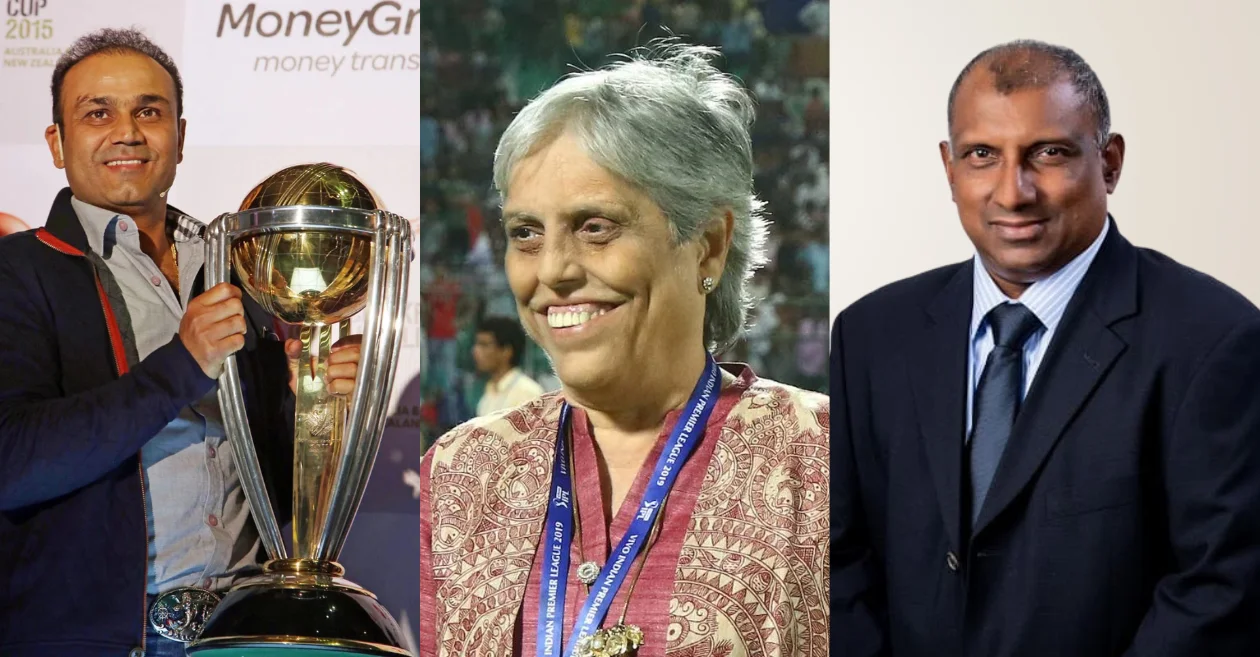 In a momentous occasion for cricket enthusiasts around the world, the International Cricket Council (ICC) has welcomed three cricketing legends into its prestigious Hall of Fame. India's Virender Sehwag, Diana Edulji, and Sri Lanka's Aravinda de Silva have now joined an illustrious list of cricketers who have left an indelible mark on the sport.
Diana Edulji: Breaking barriers and making history
Diana Edulji has etched her name in the annals of cricketing history as the first Indian woman to be inducted into the ICC Hall of Fame. Her impressive record during her cricketing career includes 20 Tests, where she contributed with both bat and ball, amassing 404 runs and claiming 63 wickets at an average of 25.77.
In the ODIs, Edulji showcased her all-round prowess, scoring 211 runs and taking 46 wickets at an average of 16.84. Beyond her on-field accomplishments, Edulji has played a pivotal role in transforming women's cricket off the field, leaving an enduring legacy for future generations.
Virender Sehwag: The Sultan of Multan's indelible legacy
Known for his fearless and swashbuckling style of play, Virender Sehwag has left an indelible mark on the cricketing world. In his illustrious career spanning 104 Tests, Sehwag amassed 8,586 runs at an average of 49.34, complemented by 40 wickets. His explosive batting was not confined to the longer format, as he also made a significant impact in ODIs, scoring 8,273 runs at an average of 35.05 and claiming 96 wickets. He also played a crucial role in India's historic 2011 ODI World Cup triumph.
With 31 international hundreds to his name and two triple centuries in Test format, Sehwag's inclusion in the ICC Hall of Fame is a fitting tribute to his extraordinary cricketing journey.
Aravinda de Silva: Sri Lanka's stylish maestro
The stylish Sri Lankan batter, Aravinda de Silva has also been recognized as the latest addition to the ICC Hall of Fame, following in the footsteps of legends like Muttiah Muralidharan, Mahela Jayawardene, and Kumar Sangakkara.
De Silva's cricketing prowess is evident in his impressive records of 6,361 runs in Tests at an average of 42.97, coupled with 29 wickets. In ODIs, he notched up 9,284 runs at an average of 34.90, accompanied by 106 wickets. With 31 international hundreds, De Silva's contributions to Sri Lankan cricket have left an enduring legacy.
Expressions of gratitude from Diana, Sehwag and De Silva
Upon receiving this esteemed honour, Diana expressed her gratitude, stating, "At the outset, I would like to thank the ICC and the Jury for having selected me to be inducted in the ICC Hall Of Fame 2023. It indeed is a great honour to be the first Indian women cricketer to be inducted and join a galaxy of cricketers, male and female from across the world."
Known for his wit and charm, Sehwag conveyed his thankfulness by saying, "I feel extremely grateful for having spent a great part of my life doing what I loved most, 'hitting the cricket ball."
Aravinda de Silva also humbly acknowledged the recognition from the ICC and said, "My sincere appreciation goes to the ICC, and the Hall of Fame voting committee for this extraordinary recognition. I share this honor with all who have stood by and shaped me."
#Indias #Virender #Sehwag #Diana #Edulji #Sri #Lankas #Aravinda #Silva #inducted #ICC #Hall #Fame