Decluttering your home comes with a whole range of benefits, from improving sleep and well-being to making your home seem bigger and tidier. A clutter-free home is an environment that fosters productivity and happiness.
Actually getting rid of unnecessary items can be hard though. Below, we cover some tips on helping you get the job done.
Why is decluttering your home important?
Before you get started decluttering, focusing on why decluttering is healthy for you might serve as good motivation. Here are a few reasons decluttering is a great idea:
Reduces stress by creating a calming space
Enhances your creativity by removing clutter that stops you thinking clearly
Improves your mental health by lowering your sense of feeling overwhelmed
Cuts down on cleaning time when you have less clutter to work around and dust
Opens up your house to more space by making living areas seem larger
Removes distractions and helps you focus and be more productive
Promotes good habits like tidiness and order
Helps you understand and locate where everything is in your home, saving you time looking for items
Financial benefits if you sell unwanted items instead of throwing them away
Promotes better sleep as a decluttered home is a more relaxing environment to rest in
These are just 10 of the many benefits that come with decluttering your home, but there are so many others!
Why not pair your decluttering project with a professional deep clean of your home, so that you can give your spaces a new lease of life this year?
FIND A PROFESSIONAL CLEANER
How often should you declutter your home?
How often you should declutter depends on how big your space is, how many things you own and your buying habits. Lots of people like to declutter with the changing of the seasons. This way, you can switch out wardrobes and adjust your living spaces according to the weather.
If you don't have a lot of stuff or live somewhere small, once a year is probably enough, though twice (every spring and autumn) is also a popular approach.
Others like to declutter before big occasions like holidays or parties, but you might also be looking to declutter before a big house move. If you are moving, you'll need to book a removal service well in advance of your moving date, so make sure you get started on finding a reliable company as soon as possible.
FIND A REMOVAL COMPANY
There is no fixed rule about how often you should declutter, but one thing is certain – doing it fairly regularly is the best way to prevent the task from growing out of proportion. If you clean and declutter on a monthly basis, this can help you stay organised year round.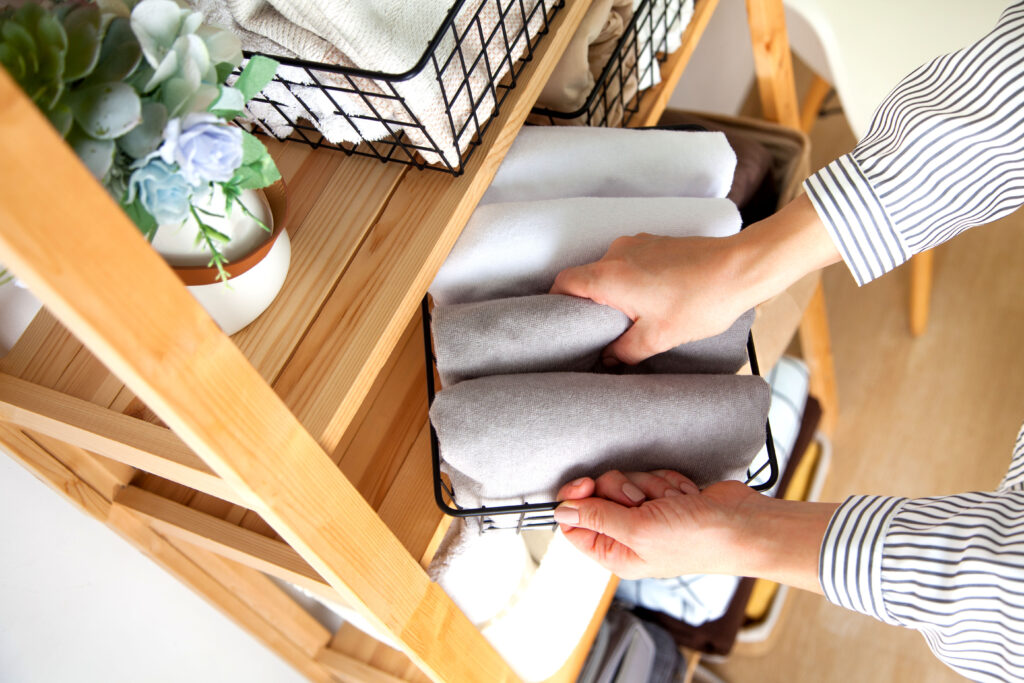 How can I motivate myself to declutter my home?
Motivating yourself to declutter can be hard, but it's not impossible! Try and:
Set clear goals
Start small and aim to get it done bit by bit
Invite a friend or family member to help/keep you company so they can hold you accountable
Create a great decluttering playlist to listen to while you work
Set short timers and work within specific time frames
Take before and after photos to motivate yourself to complete the transformation
Reward yourself for specific milestones (set these before you begin)
These small but meaningful tips will help you stay focused and motivated to declutter your spaces.
How do you organise and declutter your home?
Decluttering is an art that can take a while to master, especially if you find it hard to get rid of things, or own a lot of stuff.
A good rule to stop clutter from building up is to have a 'one in, one out' rule. If you want to bring something new in, you'll have to get rid of an old item! This will stop you buying unnecessary things, and will ensure you regularly get rid of things you don't actually need.
Start small to prevent yourself getting overwhelmed and giving up. Pick a wardrobe or a single room, then tick that off the list once you've successfully decluttered it. This will help you feel like you're getting things accomplished. If you set clear goals about what you want to achieve in a specific timeframe, you're more likely to stay motivated throughout the organisation process.
Ask yourself:
'Does this item bring me joy?'
'Have I used this item in the last month?'
This will help you organise what you should get rid of and what you should keep, but try and set limits on how many items in a given space you're allowed to keep, otherwise you'll just end up putting everything back in its place again!        
Home decluttering checklist
The best way to successfully declutter your home is by organising and storing everything room by room. To help you tackle this task, here are the top things to look out for when decluttering. We recommend you use boxes labelled donate, sell, keep and bin to help you decide what needs to stay and go.
Entrance
Remove any items that shouldn't be in the entryway and reallocate them
Organise shoe and coat storage, keeping it to a minimum of a few of each
Donate, bin or sell any shoes, coats or accessories you no longer wear
Kitchen
Empty out and reorganise your kitchen cabinets and drawers one at a time
Bin any expired food from your fridge, freezer and pantry
Organise your kitchen utensils and gadgets by getting rid of any duplicates you don't need
Living room
Remove unnecessary items on surfaces such as old magazines and knickknacks
Organise books and DVDs neatly, donating any you don't use
Consider whether there is any furniture that is taking up a lot of space and that you don't really need anymore. Opt for furniture that has integrated storage and built-in drawers to keep your living room space tidy and practical
Bedroom
Declutter items on your nightstands that collect dust and don't serve much of a purpose
Reorganise your wardrobe, selling or donating unused clothing and shoes and anything that doesn't fit anymore
It's especially good to get rid of knickknacks in your bedroom, as a minimalistic design will promote relaxation and good sleep
Bathroom
Bin expired toiletries and medicines that have been sitting on the shelf for too long
Try and remove items from surfaces that make it harder to clean your bathroom
Invest in good bathroom storage, and check out our guide on creating a spa experience in your bathroom
Dining room
Get rid of any items that aren't related to dining
Declutter the dining table, keeping items on it to a bare minimum
As a general principle, try and get rid of any duplicates of items that are hogging up space.
Invest in good storage solutions, as this will help you minimise visible clutter. The less items you have, the bigger your home will seem, so check out our space-saving design solutions to help you make the most of your decluttering project.
A carpenter can create the perfect storage for your home, integrating it into the right nooks and corners of your house so that you can store items more effectively than ever before. Speak to a carpenter today to help you find clutter-free solutions for your home:
FIND A LOCAL CARPENTER
It's time to roll up your sleeves and grab a few boxes or binbags. Decluttering takes time, but if you put the work in to make your home less chaotic, you'll be rewarded with a whole range of health benefits, as well as a home that feels cleaner, tidier and more spacious.

#organise #home #Rated #People #Blog