As summer comes to a close, homeowners around the UK are drafting up their cold weather home maintenance checklists, so they can be sure to approach the winter period properly. However, winter isn't here just yet!
Autumn is lots of people's favourite season, and for a good reason. Sweater weather is a cosy and calm time of year. No wonder so many homeowners love to get in the spirit by decorating their homes with cosy seasonal décor.
Read on to find out 2023's top autumn interior design trends, to help you turn your home into a cosy haven…  
How can I make my home cosy this autumn?
The best way to turn your home into a cosy haven this autumn is to add small details that will elevate your seasonal décor without requiring much effort or money. You don't have to drown your home in orange to celebrate the autumn. Instead, why not check out the below trends that are taking 2023 by storm…
1. Warm, neutral colour palette
This autumn, the brighter tones that have been popular in the last few years are giving way to more delicate, neutral shades. Instead of red, orange and yellow, mustard and burgundy are set to be popular, as homeowners are opting for the 'warmer' shades associated with autumn.
Some of the top autumnal colours that are trending this year include:
Terracotta
Chocolate brown
Burgundy
Mustard
Caramel
Mossy green
Choose one or more of these tones to decorate your home using new throws and pillows, autumnal prints and wall decals, or even hire a painter and decorator to give your walls a new lease of life!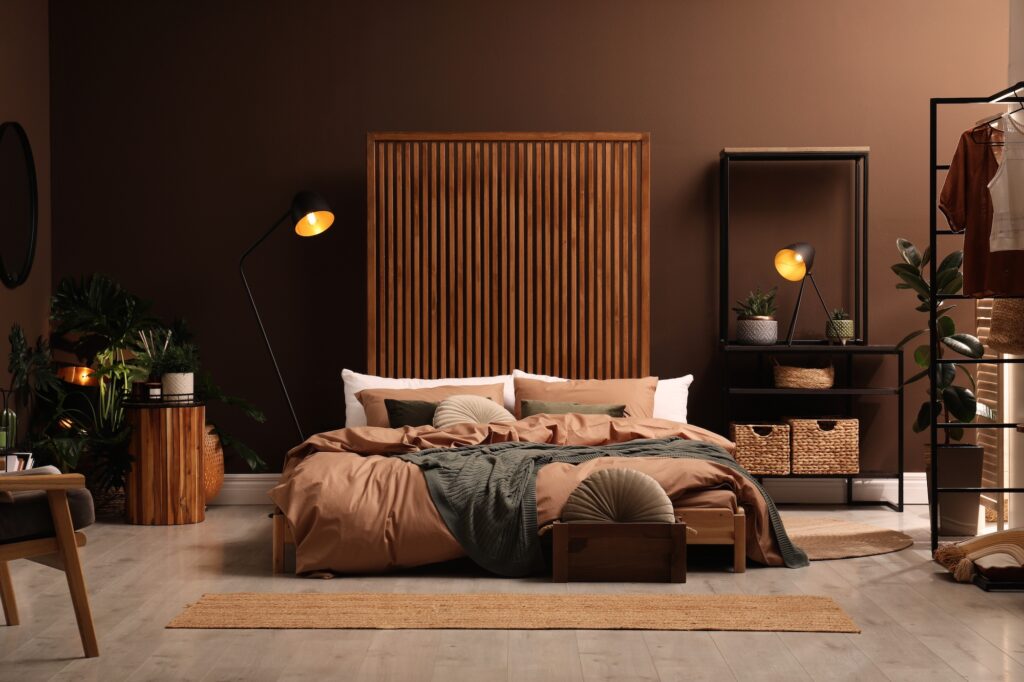 2. Natural materials
One of the top ways to create an autumnal feel is to incorporate natural materials such as wood, stone, velvet, plaid, cashmere, wool, and woven textures into your home. These materials are rising in popularity for autumn 2023, especially stone countertops and wooden flooring.
If you don't want to renovate your floors or kitchen, you can still add little touches that will bring the autumn indoors. For example, you could decorate using dried flowers and branches, autumnal plants (such as maple or oak leaves, birch branches, pinecones, sunflowers and eucalyptus), homemade garlands, or even add a pumpkin as a centrepiece for your dining table!
3. Warm lighting
Nothing makes a space seem more cosy and enticing than the right lighting! Opt for warm-toned lightbulbs or dimmer switches to create an inviting atmosphere. As an extra touch, why not hang fairy lights for those autumn evenings sitting on the sofa with a book or film?
This season, taper candles are also a must-have autumn décor item. Candlesticks in varying heights and autumnal colours will help you create ambiance and will stand out as a unique décor piece as well!
For all your lighting needs, speak to a skilled electrician in your area today.
FIND A LOCAL ELECTRICIAN
4. Autumnal scents
To really get in the spirit of autumn, appeal to a range of senses with the use of comforting autumnal scents. Some of this year's most popular include:
Pumpkin spice
Cinnamon
Spiced chai
Vanilla
Apple cider
Sandalwood
Nutmeg
Gingerbread
Cranberry
Sweet amber
To get your house smelling like a cosy autumn day, you can use candles, potpourri, essential oil diffusers, or even throw a bunch of spices in a pot to simmer on low heat!
5. Prep your garden for autumn
Just because summer is ending, there's no reason why you should stop entertaining friends and family outdoors. You just need to do a bit of prep work to ensure your outdoor spaces are ready to tackle the cooler weather.
Invest in weather resistant furniture, and make sure you have blankets to pile over your guests once they get comfortable outside. A patio or garden deck is the best landscaping choice for outdoor dining. Then, all you're missing is a speaker and some friends for the perfect party or dinner.
Consider a firepit for the ultimate cosy garden experience, or even an outdoor heater to keep the cold away. Lastly, we recommend fairy lights as the easiest way to turn your garden into a cosy spot.
Have a garden landscaping project in mind? Speak to a skilled specialist in your area to get started.
FIND A GARDEN LANDSCAPER
Autumn home decor FAQs…
When should I start decorating for autumn?
Most people start decorating for autumn in early September, as the weather begins to cool and shops begin to sell autumnal decorations.
However, autumn doesn't officially begin until mid September, so we recommend you start planning and brainstorming décor trends you like and contacting any tradespeople you'll need before then.
Lastly, some people only like to decorate around specific holidays, like Halloween, in which case early October might be a better timeline.
How can I decorate the front of my house in autumn?
It doesn't take much to decorate your front door with an autumnal theme. A pumpkin on your front door step and an autumn wreath hanging from your door are a great start, as are an autumn themed doormat and a few seasonal plants to add a pop of colour.
Candles and lanterns create ambiance and warmth, as do fairy lights or garlands that hang from your porch or gate.
If you have a porch table or bench, decorate these with pinecones, gourds, mini pumpkins, candles, leaves, and branches to set an autumnal tone straight away.
How do you decorate for autumn on a budget?
Decorating for autumn on a budget is definitely achievable, especially if you get a little creative and resourceful with it. We recommend you:
DIY your decorations, including painted pinecones, leaf garlands made with leaves tied with twine, DIY autumn wreaths made using natural materials, and autumn themed painted mason jars
Shop sales and thrift stores for discounts and clearance items
Make the most of the natural world by collecting colourful leaves, pinecones, acorns, and branches during walks in the park
Print free, floral and autumn-themed wall art and frame it around your house
Swap décor with friends to give your home a fresh look without spending more money on new decorations
Autumn décor is simple, natural and cosy – you don't need to break the bank to achieve the perfect atmosphere!
From garlands to taper candles, there are plenty of small additions you can make to give your home a cosy, autumnal feel. Bring nature indoors with autumn leaves and homemade garlands, or opt for a spookier look with Halloween décor and carved pumpkins dotted around the house.
Start with your dining room with some table decorations, then move to your bathroom, kitchen and bedroom. Your home décor options are truly countless. It all depends on the vibe you're going for and your home's interior design.
Need the help of a skilled tradesperson? Request a quote today to get started!
FIND A LOCAL TRADESPERSON

#Cosy #autumn #décor #trends #Rated #People #Blog