If you live in a small house, creating more space is likely to be a priority for you. However, big extensions and loft conversions are expensive, and not all homes have the option to add space by renovating. Smaller design solutions can go a long way to making your home look and feel bigger, especially when it comes to adding clever storage.
It's no surprise then that, according to our 2023 Trends Report, optimising and reconfiguring spaces is a top 5 reason homeowners want to make home improvements this year!
Below, we cover some of the cleverest design solutions to help you make the most of your house whilst improving its overall aesthetic.
1. Use reflective materials to your advantage
It's fairly common knowledge that mirrors can be used to create the illusion of space and openness in a small room. Opt for a floor length mirror or even an oversized mirror that covers an entire wall (a cluster of small mirrors put together can achieve the same effect) to give your room a feeling of spaciousness.
As well as this, don't forget that reflective materials are also great at achieving a maximising effect. Glass is a great example, and can be used in a range of places such as glass shelves, cabinet doors and tabletops. By allowing light to pass through them they create a transparent, airy look that helps your house seem more open. Also consider:
Glossy surfaces (like tiles) which reflect light well
Metallic finishes (like stainless steel and polished chrome) which catch and reflect light, adding brightness and depth
Reflective wallpaper (great at giving the illusion of space)
Polished flooring (such as hardwood, concrete, glossy tiles) that create an expansive effect
Just make sure your reflective materials don't clash with your home's aesthetics and lighting, especially in your kitchen, living room and bathroom. Speak to an electrician today to get some advice on pairing mirrored surfaces with your light fixtures.
FIND A LOCAL ELECTRICIAN
2. Turn your furniture into storage
Concealed storage is one of the best ways to store belongings and save space in tiny houses that don't have a lot of cabinets or shelving.
If you're short on storage space, you should consider getting the below furniture choices, but with built-in storage compartments:
Ottomans
Benches
Footstools
Coffee tables
Platform beds
Sofas
Desks
TV stands
All of these staple furniture pieces can be bought or adapted to double up as storage. This will improve the amount of available living space you have in your home to keep your things out of the way and stored neatly.
3. Go vertical!
Vertical spaces can be harnessed to maximise room and create the illusion of vastness in your home.
Use empty vertical spaces as shelving storage. Your options include corner shelves, fixed shelves, adjustable shelves and floating shelves. Similarly, the insides of your cabinets and cupboards should be divided using vertical shelves (not horizontal ones) as this gives you more space to store items such as saucepans and trays in your kitchen.
In terms of creating the illusion of space, rooms that have tall, elongated windows that stretch to the top of the wall will make your house look expansive whilst allowing a lot of natural light to flood the room.
If you don't want to install new windows, simply hang long curtains from the ceiling to create the sense of spaciousness, without having to replace your existing windows. This will help you avoid the cramped feeling that small windows can often create. Don't want curtains? You could also consider shutters or blinds which barely take up any space at all.
4. Invest in foldable or collapsible furniture
Like storage furniture, collapsible furniture is always a great way to create space. The most famous example of foldable furniture is pull-out sofas that become a bed – great for hosting friends. Similarly, you can also get beds built into your wall, so that you can use a room for two different purposes (for example an office that serves as a guest room when you have friends or family over).
Extendable clothes driers are also handy for those that don't have space for a utility room. They're out of the way and can be easily reached when you're doing laundry.
Don't have space for a big dining room? Pull down tables are a modern solution for small houses, allowing you to squeeze in an area to eat in.
The options are endless. Shop around to find the best collapsible, space saving furniture.
Need a hand installing your new finds? A local handperson is here to help.
FIND A LOCAL HANDYPERSON
5. Use up dead spaces
Most homes have a range of nooks and crannies, awkward corners or spots known as 'dead spaces' that could be used as storage. One of the most common examples of this is the space underneath a staircase, which, depending on your home's layout, can be turned into storage.
With custom-built furniture, you can fill any dead space perfectly, clearing up clutter and helping you organise your home.
Want to get custom-built furniture? Speak to a skilled carpenter today to get started on turning your small house into a customised haven.
FIND A LOCAL CARPENTER
6. Declutter, declutter, declutter
The best thing you can do to create a sense of space in your house is to get rid of things you don't need. This will improve your home's overall tidiness and allow you to re-organise where everything lives in your house.
When you sort through your belongings, organise them as keep, bin, donate or sell (if you want to make some money back). Doing this will help you ensure you only keep things you really need and want.
7. Turn your garden into a liveable space
If you have a garden, turning it into an outdoor living area is one of the best ways you can extend your home's square feet of usable space. Add weather-resistant furniture and outdoor lighting for an inexpensive fix, or consider one of these garden landscaping projects to really turn your garden into a safe haven (to be enjoyed year round):
Patio
Decking
Pergola
Garden pond
Paving
Fencing
Artificial grass or astro turf
Garden shed
Planned out the layout of your new garden? Speak to a local garden landscaping specialist to get started today. What are you waiting for…your dream garden retreat awaits!
FIND A GARDEN LANDSCAPING SPECIALIST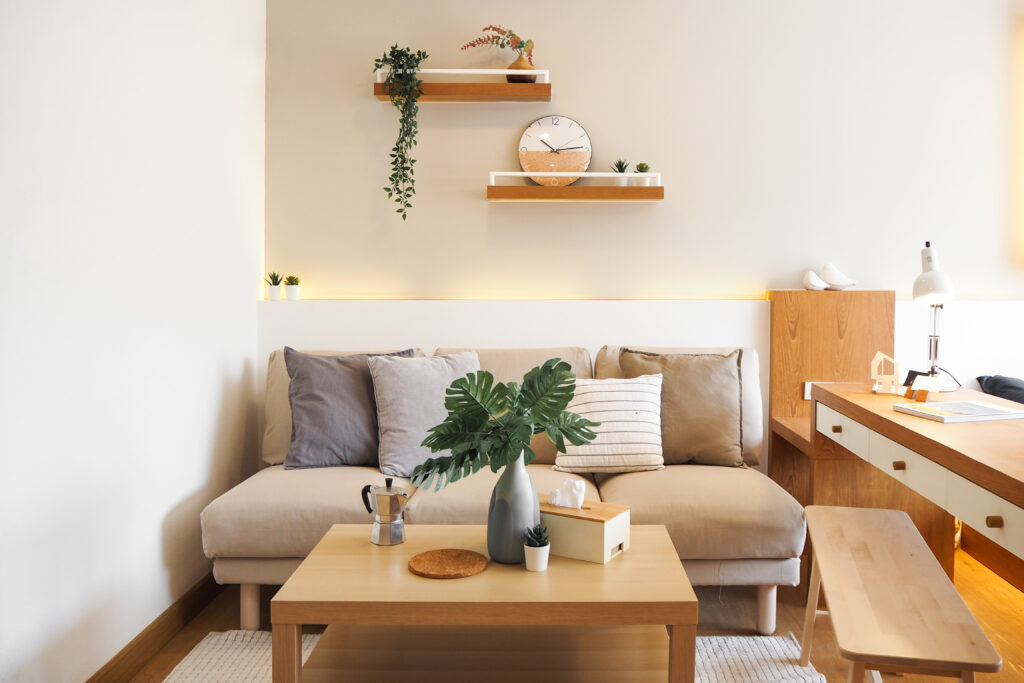 Have a small house? Don't worry. You don't have to spend a fortune to make your home feel bigger than it is. All you need is some clever design solutions. Whatever design hack or trick you want to try to help create more space, we're here to help you get creative. Simply request a quote today to get started.
FIND A LOCAL TRADESPERSON

#Clever #design #solutions #small #homes #Rated #People #Blog